Facilities
The Petrozavodsk State Glazunov Conservatoire resides in the centre of the city of Petrozavodsk in the renovated building with the recent extension of the concert hall. The main building is 5550 sq m (Leningradskaya st., 16) and the dormitory is 7500 sq m (Moskovskaya st., 1B). The Conservatoire provides modern educational facilities including classrooms equipped with required music instruments, audio-visual and multi-media equipment, the library, the sound recording studio and offers a vast array of musical, technological, and scholarly resources.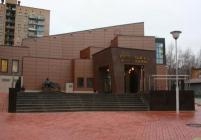 The Bolshoy Concert Hall was built in November 2011 and gained the first prize in architecture from the City Municipality in 2012. The hall has a seating capacity of 405 seats and it is used for perfomances by the Symphony Orchestra, the Folk Instruments Orchestra, the Chamber Orchestra and the Concert Choir of the Petrozavodsk Academy of Music, as well as recitals on the new Allen organ. As the conservatoire's largest hall used for educational purposes the Bolshoy Concert Hall is also home to performances by soloists and ensembles within numerous competitions and examinations. The hall is equipped with the newest sound and lighting equipment, it has two Steinway grand pianos and the Allen digital organ, three one-person dressing rooms and several group dressing rooms to be provided on request. The stage size is 14x8 m and it can accomodate up to 60 musicians at a time.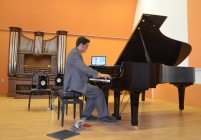 The Maly Concert Hall is used for educational purposes only and has a seating capacity of 100 seats. The hall has two Yamaha grand pianos and the Johannus electronic organ. The hall is mostly used for rehearsals, exams and master-classes.
The Academy's Library holds approximately 75,000 scores and parts, books about music, pieces of sheet music and subscriptions to music periodicals. The library deals with the leading online scores archives in order to provide the Academy's students with all the required materials for educational process. The Music Archive contains over 20,000 recordings including music by Karelian composers, live concert recordings, best classical music recordings.
The Institute for Studies in Ethnic Music maintains an extensive collection of audio recordings (oral interviews and folk materials) of Karelian, Veps and Finnish people. A majority of these recordings are not digitized and transcribed, permission to listen to or use any of the recording is determined on a case by case basis.