Dormitory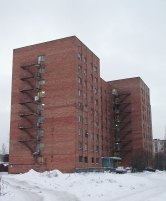 The dormitory of the Petrozavodsk State Glazunov Conservatoire is located within a 10-minute walking distance from the conservatoire.
The fees for accomodation vary from 3200 to 7200 rubles a month per person depending on the type of accomodation.
The dormitory is divided into sections. Each section consists of 4 twin rooms and 4 triple rooms, a kitchen, two shower rooms and two lavatories. In the sections of enhanced comfort there is a fridge, a TV, a microwave and a washing machine.
The dormitory also has a workout facility, a gym and rehearsal rooms for studying. There is also a public pay telephone and an Internet access point. The building is equipped with fire and security alarm systems. The entry is by electronic ID-cards.
The building itself was constructed in 1973. The full capital repair of the building was carried out and accomplished in 2013. The total floor area is 7530 m2, the accommodation area is 3564,3 m2. The dormitory can hold 640 accommodations, including 40 accomodations of enhanced comfort.
For further information please contact:
The director of the dormitory
Olga Prokhorova
Tel.: +78142 56 38 38
E-mail: olga.prokhorova@glazunovcons.ru
Address: Moskovskaya St., 1b, Petrozavodsk, Republic of Karelia, Russia