The solo concert of Yi Wu (piano)
On October 29, 2014 at 7 p.m. at the Petrozavodsk State Glazunov Conservatory Concert Hall: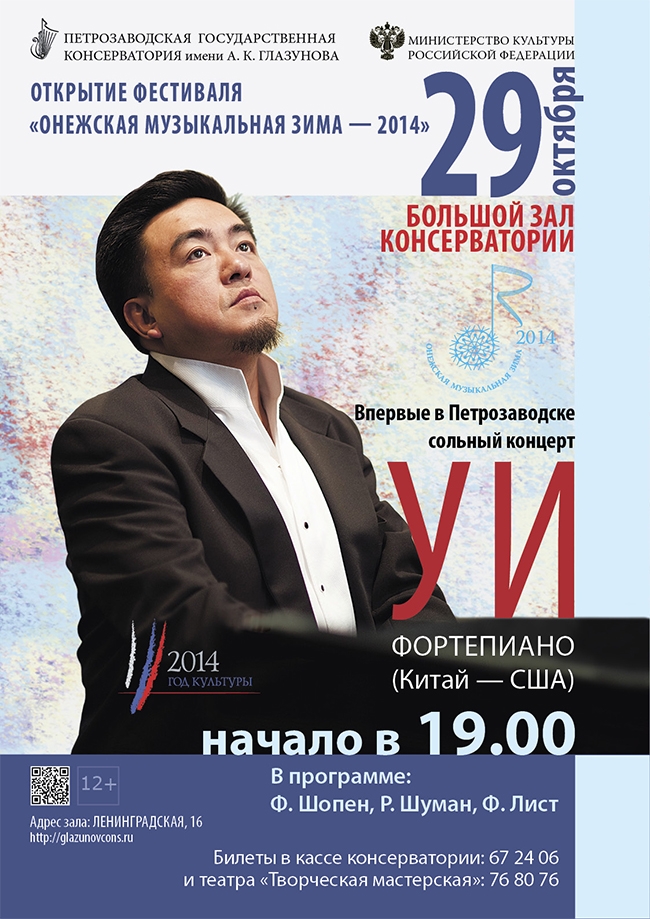 On the programme:
Fantasy in C major op. 17
Sempre fantasticamente e appassionamente
Moderato, sempre energico
Lento sostenuto e sempre piano
F. Chopin (1810-1849)
Sonata in B flat minor op. 35
Grave - Doppio movimento
Scherzo
Marche funebre
Presto
F. Liszt(1811-1886)
Sonata in B minor. S. 178
Yi Wu is a piano virtuoso. He has garnered both popular and critical acclaim with his spectacular appearance as a recitalist and as a featured soloist with major orchestras throughout Asia, Europe,South and North America.
Yi showed a remarkable musical disposition as a young child in his native Shanghai, China where he began his musical studies with his mother at the age of four. At age of ten, he was accepted into the prestigious Shanghai Conservatory. Following the family's immigration in mid-80's to Argentina, Yi continued his musical studies there with Aldo Antognazzi and received an honorary professor title from Argentina's Beethoven Conservatory. He made his professional debut at the age of seventeen in the Teatro Colon and in the same year, won first prize in the Argencar Piano Competition. This led to a performance tour throughout Argentina,Brazil and chile in 1987.
To further his musical career, Yi Wu came to the United States to work with distinguished teachers,including Joaquin Achucarro, Alfred Mouledous and John Perry at the University of Southern California and Southern Methodist University. In 1990 Yi made his American professional debut with the Dallas Symphony Orchestra as well as a performance tour to Chicago, Houston, Los Angeles and other major cities in the U.S.A.
Mr. Wu has successfully competed in a number of intermational piano competitions. He was the first-prize winner in Franz Liszt Piano Competition, Buenos Aires (1987); silver medal winner and Best Performer of Chopin at the First Taipei International Piano Competition (1991); first-prize winner at the inaugural Esther Honens Intermational Piano Competition in Calgary (1992). This last award led to a concert tour throughout Canada in 1993. During this tour, the Winnipeg Free Press commented,"Yi Wu is an intelligent and sensitive artist who has an unassuming manner of quiet dignity....and a splendid command at all times. Tonally, he is wonderful with warmth, weight and color in abundance." His fist-Prize in Calgary led to television and radio broadcasts and a solo recording. Arktos CD Company has recently released this recording as part of the Esther Honens Intermational Piano Competition winner's CD series. In 1996, he was invited to perform a concert in Hamburg as part of the ceremony celebrating the commencement of the sister city relationship between Calgary and Hamburg. He was also one of four musicians invited to perform at the 1994 International Music Competition Winners' Concert series in Hong Kong and has toured Europe every year,especially in Germany, Hungary and Spain.
Mr. Wu, a Steinway artist, currently resides in North Dallas and Shanghai where he both performs and instructs. He is frequently invited to perform with prominent orchestras and teach master classes. Mr. Yi Wu recently became director of piano department at the Shanghai Normal University.