Vitaly Fartushny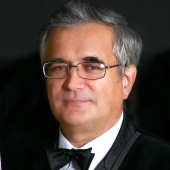 Distinguished Professor of Oboe
Honored Artist of Ukraine
Honored Artist of the Republic of Karelia
Vitaly Fartushny studied oboe at Vinnitsa Musical College in Ukraine with Yuri Larionov and at the Rimsky-Korsakov St. Petersburg State Conservatory with Prof. Vladimir Kurlin.
From 1980 to 2012 Vitaly Fartushny (oboe, English horn) was a soloist and a concertmaster at the Karelian Philharmonic Orchestra and the Orchestra of Russian Folk Instruments as well as an artist at the Petrozavodsk Conservatoire Wind Quintet.
In 1981 he founded a wind orchestra at the Petrozavodsk Conservatoire and was its artistic director and conductor until 2008.
In 1997 Vitaly Fartushny was awarded with the title of Honored Artist of Ukraine and in 1999 with the title of Honored Artist of the Republic of Karelia.
Vitaly Fartushny has been teaching at the department of woodwind, brass and percussion instruments of the Petrozavodsk State Glazunov Conservatoire since 1973. Among the disciplines he teaches are "Principal Instrument (oboe)", "Wind Ensemble", "Secondary Instrument", and "Pedagogical Practice".