Facilities
Concert Hall
Recital Hall
Opera Studio
Library
Dormitory
The Concert Hall was built in November 2011 and gained the first prize in architecture from the City Municipality in 2012. The hall has a seating capacity of 400 seats and was designed for classical music festivals, concerts of symphonic music and chamber music.
The Concert Hall is mostly used for performances by the Symphony Orchestra, the Orchestra of Russian Folk Instruments, the Chamber Orchestra and the Concert Choir of the Petrozavodsk State Glazunov Conservatoire, as well as recitals on the Allen organ. It is also home to performances by soloists and ensembles within numerous competitions and examinations. The hall is equipped with the newest sound and lighting equipment, it has two Steinway grand pianos and the Allen digital organ, three one-person dressing rooms and several group dressing rooms. The stage size is 14x8 m and it can accommodate up to 60 musicians at a time.
The 72-seat Recital Hall provides an additional performance space to the Concert Hall of the Conservatoire. It features two grand pianos and a Johannus digital organ. It is used for chamber music concerts, solo performances, rehearsals, exams and master-classes.
The 40-seat Opera Studio of the Conservatoire is equipped with professional lighting equipment and a "K.Kawai" concert grand piano. The opera studio hosts chamber concerts, meet-the-artist events, master-classes and competitions.
The Library holds approximately 75,000 scores and parts, books about music, pieces of sheet music and subscriptions to music periodicals. The library deals with the leading online scores archives in order to provide the students with all the required materials for educational process.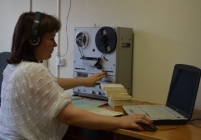 The Music Archive contains over 20,000 recordings including music by Karelian composers, live concert recordings, best classical music recordings and maintains an extensive collection of audio recordings (oral interviews and folk materials) of Karelian, Veps and Finnish people.
The Petrozavodsk State Glazunov Conservatoire resides in the center of the city of Petrozavodsk in the renovated building with the recent extension of the concert hall. The main building is 7783 sq m (Leningradskaya st., 16) and the dormitory is 7500 sq m (Moskovskaya st., 1B). The Conservatoire provides modern educational facilities including classrooms equipped with required music instruments, audio-visual and multi-media equipment, the library, the sound recording studio and offers a vast array of musical, technological, and scholarly resources.
The Dormitory of the Petrozavodsk State Glazunov Conservatoire is located within a 10-minute walking distance from the conservatoire. The full capital repair of the building was carried out and accomplished in 2013. The building is equipped with fire and security alarm systems. The entry is by electronic ID-cards.
The dormitory is divided into sections. Each section consists of 8 rooms (single, twin or triple rooms), a kitchen, two shower rooms and two lavatories. In the sections there is a fridge, a microwave and a washing machine. The dormitory also has a workout facility, a gym and rehearsal rooms for studying.